China Business Association Ho Chi Minh City the 7th council meeting was held on Aug,1st,2015 at CBAH Secretariat office.The meeting was chaired by the President of CBAH Mr.Miao Ren Lai.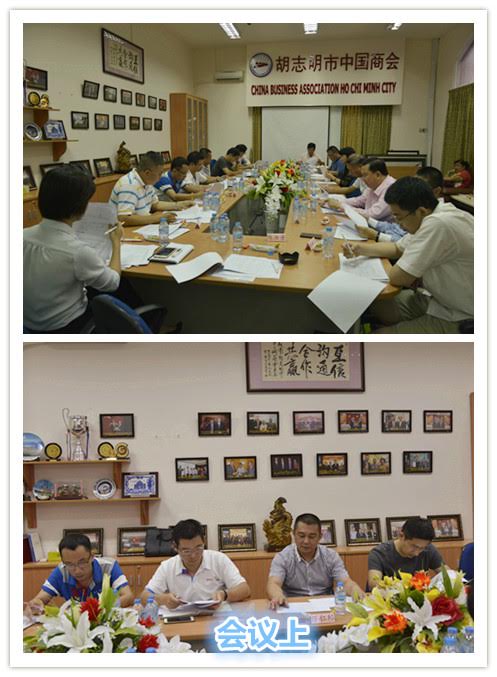 A total of 19 participants attended to the 7th councils  the meeting :
Mr.Miao Ren Lai – Van Su Loi International Investment and Trade Machinery Co., Ltd
Mr.Zhou Zhong Xi -Baosteel Group/ Baosteel Singrapore
Pte Ltd Viet Nam Presentative office
Ms.Zhou Bo Qin-Textile Texhong Stock Company Nhon Trach 
Mr.Ke Yu – Loi Dat Lai Viet Nam Import & Export Company
Mr.Wang Hui Jun, Mr.Deng Yan An-TCL Electronics Viet Nam
Mr.Yang Wen Bin - Gree Air Conditioner Viet Nam Co.,Ltd
Mr.Cao Hui-Linh Trung Sepzone Co.,Ltd
Mr.Wu Huai En- Dona Newtower Joint Stock Company
Mr.Tang Dong- Air China Vietnam Brand
Ms.Wu Mei Lin- Lien Hoa Aluminium Processing Companny
Mr.Zhang Chao Ming-Vung Tau Paridise Resort World.
Mr.Wang Chao Ying- China Construction (S.E.A) Coporation Ltd
Mr.Wang Shi Qi- Bank of Communications HCMC Branch
Mr.Lin Zhao Shu- China Bussiness Joint stock company
Mr.Wang Xin Jiang-China Construction Bank Ho Chi Minh
City Branch
Mr.Liao Zhou Peng-Center Power Technology (Vietnam)Co., Ltd.
Mr.Hang Yu Bin- Midea Consumer ElectricVN
Mr.Chen Ru Fang-Board of supervisors
Mr.Li Ying-Financial Advisor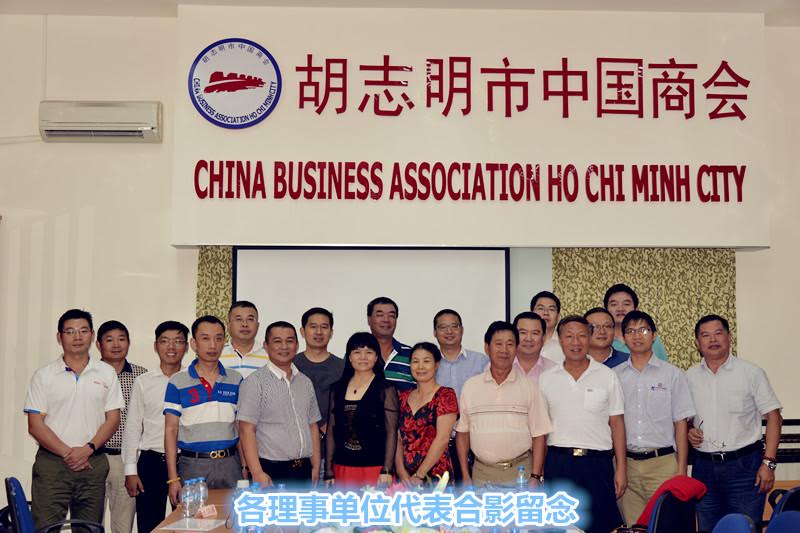 The 4 main contents discussed at the conference were: 
1. 2015 The second quarter financial status summary report of China business association was made by financial advisor Mr.Li Ying
2. 2015 The 2nd  quarter work summary report of China business association was introduced by secretariat.
3. 2015 The 3rd quarter main activites plan of China business association was introduced by secretariat.
4.Discussion and dicision of councils.
-Led the member companies and provincial leaders of relevant departments and local enterprises to participate in 2015 Jinjiang-Vietnam Investment & Cooperation Summit and 2015 China International Investment and Trade Fair .
-Hold Mid-Autumn Festival party for the China Business Association members of Binh Duong Province.
-Prepare for 2015 Mid-Autumn Festival party of China Business Association
-Agricultural Investment Promotion Agency meeting of Can Tho City , Dong Thap Province
Welcome all members to join China Business Association Ho Chi Minh City QQGroup (Group number:334146785). Please add and introduce our Wechat (cbah108) to your Chinese compatriots. We will offer the new information on QQ group and Wechat everyday. Let's enjoy our services.
*Contact information of the secretariat:
Email address: cbah108@cbah.org.vn,cbah109@cbah.org.vn,
 cbah110@cbah.org.vn,admin@cbah.org.vn
Tel:08-6264 1027-28
Fax:08-6264 1029
Website:www.cbah.org.vn
Facebook: www.facebook.com/cbah.org.vn